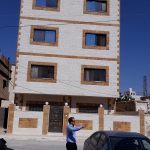 We are thrilled to announce that from July 1st GreenfieldCities has opened its second office, located in a beautiful location in the center of the Jordanian town of Mafraq. Mafraq is the town in Northern Jordan where we develop our campus.
By locating in Mafraq we help to curb the trend of brain drain from the town to Amman, and we walk the talk of acting and hiring locally. Our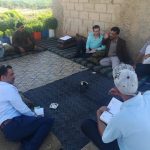 office includes specific areas to create a safe living and working environment for women and has space to grow towards 10 employees. The office is a great base for local stakeholder consultations too (see picture of a visit to a local pepper farm).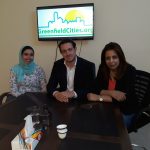 Our local team consists of Hedzer, Alaa and Haneen and packs a lot of talent and experience. Their first task is to complete the ongoing feasibility study for our campus and to attract more co-development partners.  All of this is well under way and local feedback is very positive. Our presence in Mafraq at a 10-minute walk from our campus project site brings us a big step closer to building and operating the campus.