The Corona pandemic affects the whole world and every country takes precautionary measures. This impacts daily life in our project town Mafraq as well. Our Youth Business Campus project there is virtually on hold, but life goes on. To stay connected, our Mafraq team member, Rahmeh Al Tehaimer holds short street interviews with people that one day can directly or indirectly benefit from the Campus activities.
Dima Hussban, student at al Al Bayt University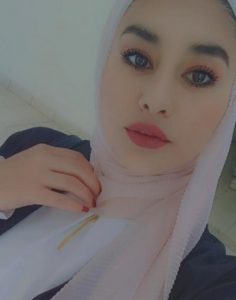 When meeting Dima, I noticed she is positive about most things. "I found more time to work and study after the education became online. Before, on-campus education used to take a lot of my time as I had to attend and take lectures. Now I found time to work and study at the same time"
Dima indicates that she has become more aware of her health and that she took a disciplined break by staying at home during periods of complete lockdown.
Dima expressed some fears by saying that she felt we have little information about Covid19 and how it affects the immune system, since the world has never seen anything like it before. This matter made her feel tense in the beginning, with the increasing number of infections and deaths and around the world, and the absence of any vaccine for it.
Dima practiced sports during quarantine periods as she beliefs in the benefits of physical exercise for the immune system and her mental health. She also took walks outside during the permitted hours with her sister. Dima also dedicated some time for study and reading good books
Dima's thinks that after this pandemic, we have to become more then before aware of the disinfection of public places and ourselves. We have to be more cautious in general, so if we encounter something similar, we will learn better how to confront it and cope with it.
Dima thinks we will be able to return to normal, after the pandemic is over. She is impressed with the measures taken to cope with the situation, and while doing so, we have a lot to learned more about Covid19.
Dima indicates that she would not change anything in Mafraq. She felt Mafraq was well prepared for such a pandemic. Everything was under control in the health sector and the health centres even in times of strict quarantine and lock down. Food delivery services became active and this was useful after the community shifted needed such services as restaurants closed and people mostly avoided  gathering in public places.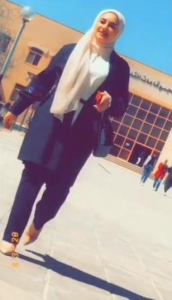 "We did notice that that Jordanian students are not familiar to e-learning on one hand, and on the other hand, teachers and professors weren't fully prepared for the distant learning processes. This led to an "educational gap" between the teachers and the students. This situation improved over time.
Dima wishes that we always remain at this level of commitment and concern for our health even if the Covid19 disappears and ends. She wishes for herself to graduate and be able to travel abroad and get a job that fits her ambitions and desires.
I hope she will fulfil her dreams!
Greetings from Mafraq, Rahmeh
Upcoming interview:    Mohammed Saeed, owner of a local vegetables store