Creating Greenfield Cities in Migrants' Region of Origin
At GreenfieldCities we have this spot on the horizon that is a root-cause solution for curbing forced migration. GreenfieldCities' goal is to create sustainable and safe cities in (potential) migrants' regions of origin. Of course, this is an ambitious goal, but every day we are inching closer to a working methodology.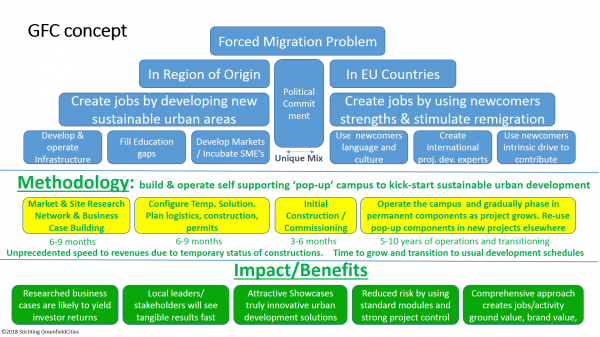 In the region of origin (the left hand side of the above figure) we create jobs by designing, developing and operating new sustainable urban areas. These areas are developed in the form of small scale business campuses targeting local young people. The campus development activities include filling in education gaps, developing new markets, and incubate SMEs.
In EU countries (the right hand side of the above figure)  we create jobs by using newcomers's strengths (language, culture and local knowledge) and stimulate re-migration by preparing team members to develop campuses in their own home region over the next years.
Our First Campus in Mafraq, Jordan
Mafraq is a Jordanian trade town close to the border with Syria. Its original population of 60.000 roughly doubled through the influx of Syrian refugees. Additionally, the roughly 80.000 people living in Za'atari refugee camp are only 10 kilometers away from Mafraq. The pressure on regional resources is enormous and unemployment rates are high, especially among women. New job creation is needed. This needs to be done in a sustainable way to avoid further stress on energy, water, healthcare and agricultural resources. We completed a first round of market research with positive results. Mafraq is the city where we develop our first Campus.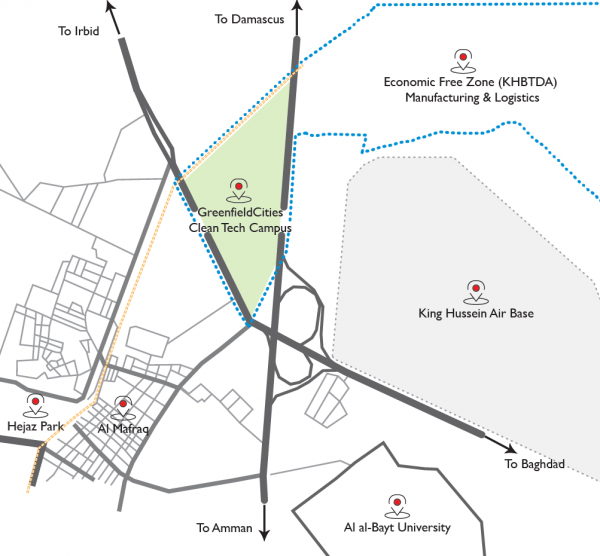 Our local strategy is to position ourselves quickly into the heart of Mafraq. We don't work from the capital city Amman, but have our Jordanian office in Mafraq itself.If possible we work with local partners. Committing locally and long-term are key success factors for sustainability and growth of the campus, nurtured by revenue-generating activities such as the sustainable exploitation of the infrastructure we build. We make use of local needs and opportunities that can be found in Mafraq itself like the Al al-Bayt University and the existing and emerging activities at the local KHBTDA Free Zone.
We secure quick results with our pop-up methodology (construction Phase I in the picture below) using high-quality modular components. This initial drive includes kick-starting the necessary business, education and residential infrastructure and services based on local needs and ambitions. By working like this, we create an enabling environment, attracting other investments, while securing buy-in from local citizens and leaders. Last but not least, our approach provides a strong business-case for impact investors that strive for societal return on investment next to their financial returns.
Timeline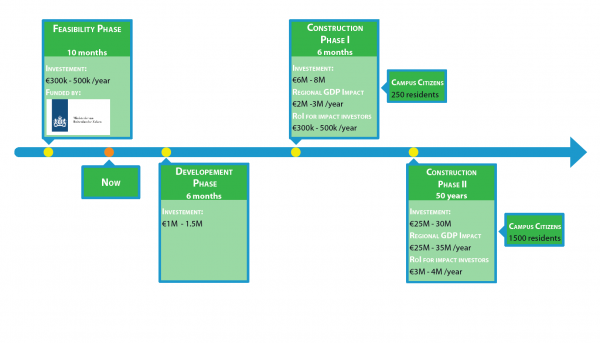 The Dutch Ministry of Foreign Affairs and other excellent partners support GreenfieldCities. Mafraq based businesses, educational institutes, young professionals and public entities can reach their goals faster, more efficiently and with minimal environmental impact by working from our campus in the Mafraq Economic Free Zone. Moreover, based on actual progress, impact investors are showing appetite to invest in GreenfieldCities directly.